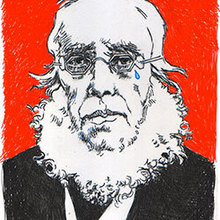 Committee to Save Cooper Union Legal Fund
CSCU is pursuing legal action as a last resort after Cooper Union's Board of Trustees proceeded to stop offering the free education required by the Charter.
Contribute with PayPal
(You do not need a PayPal account, follow the "Continue" link on the PayPal page to use your credit card.)
« CSCU updates
The REAL State of Cooper Union
Dear Alumni and Friends,
On March 15, 2015, Cooper Union released a comprehensive view of "The State of the Cooper Union." Predictably, it triumphantly declares that, "[Cooper Union has] weathered a storm and come through intact." Hogwash.
"The [Rosy] State of Cooper Union," as related in the school's report, does not hold up to scrutiny. It is rife with bald-faced inaccuracies, clumsy attempts to misdirect and mislead readers, and the careful omission of information that undermines its assertions.
We find it difficult to believe that anyone would accept this rosy (self-) assessment. Faculty, students, and alumni have repeatedly gone on the record opposing the dismantling of Cooper Union's founding mission and voiced their complete lack of trust and confidence in the course taken by the Board and President; hundreds have donated time and money to support the CSCU's lawsuit to counter the improper imposition of tuition by the Board of Trustees; and there is a constant drumbeat of despair and fury rising up from all corners of the Cooper Community as academic processes are circumvented and administrative costs skyrocket. The crisis is not over and the storm is as active as ever.
Does anyone accept the claims that Cooper Union has already emerged "intact" from the crisis or that we are now headed "toward a vibrant future?"
While the report talks about "joining together to build our future," we see no evidence that there is any interest in truly working with the larger Cooper community. We believe that the current Administration and Board strategy is dependent on ever-rising tuition, puts revenue before mission, and uses a 'cherished' patina of history to sell an inferior product. The tuition-fueled scheme for the school is quickly undermining and corrupting a 156 year-old reputation.
Over the past few days, many of you have written to CSCU and asked that we publish a detailed counterpoint to "The State of the Cooper Union" report's assertions. We've done our best to draft an accurate and fair analysis of its claims and correct inaccuracies. Just as important, we tried to provide missing information that's needed to make good judgments about what action is needed to save Cooper Union.
[Click to view the complete "The Real State of Cooper Union" PDF document]
Overall, we do not agree with assertions that Cooper Union is making progress in its efforts to:
Preserve its distinctive mission and vaunted reputation.
Maintain or improve the quality of its student body, faculty, and curriculum.
Rally faculty, students, alumni, parents, donors and others around Cooper Union.
Assure Cooper Union's financial viability.
We found serious flaws in the report, mischaracterizations, and statistical "sleights of hand" used to support a false narrative of a school on a solid and positive path forward. Despite claims to the contrary:
Admissions standards are sinking.
Proper academic oversight of students, faculty hires and tenure, and programs is being circumvented.
Ill-conceived programs that are of dubious quality and without faculty and classroom space are being rushed into place for next semester.
The tuition-plan is tearing the school apart, destroying its reputation, and raising risks (death of mission, loss of tax subsidy, Court sanctions, drop in rankings, etc.) that far outweigh any potential, unproven, revenue stream.
We maintain that the Administration and Board are ignoring critical factors, such as the potential loss of tax-subsidies and the pending ruling of the State Supreme Court—ignoring those risks does not make them any less relevant to the state of Cooper Union.
It is time for the board to reverse its actions, take a principled stand for a free Cooper Union, replace the President with a real leader, and put an immediate stop to the accelerated admissions, ill-conceived programs, administrative bloat, and academic compromises that are digging a grave for Cooper Union.
As we were finalizing this response to the school's report, The Wall Street Journal published an article, now picked up widely by the media, that disclosed the ongoing investigation by the NY State Attorney General's Office into the actions of the Cooper Union Board of Trustees. We are fully aware of the investigation and will continue to provide every support possible to the office of the Attorney General.
The Committee to Save Cooper Union is working hard to turn around the situation at the school and we continue to draw on the legal team's expertise and help in our ongoing work. If you can, please contribute to the CSCU's legal fund to keep us moving forward!
Thank you for your support as we continue to fight to restore Peter Cooper's legacy and vision for Cooper Union.
Sincerely yours,
The Committee to Save Cooper Union Founding Directors:
Adrian Jovanovic, CU BSE '89
Mike Essl, Associate Professor of Art, CU ART '96, M.F.A.
Toby Cumberbatch, Professor of Electrical Engineering, Ph.D.