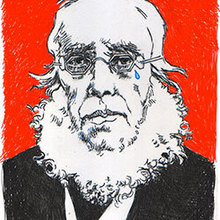 Committee to Save Cooper Union Legal Fund
CSCU is pursuing legal action as a last resort after Cooper Union's Board of Trustees proceeded to stop offering the free education required by the Charter.
Contribute with PayPal
(You do not need a PayPal account, follow the "Continue" link on the PayPal page to use your credit card.)
« CSCU updates
Take The Call
Greetings!
Like you, we anxiously await Judge Bannon's ruling on the CSCU's petition to halt tuition, hold the Board of Trustees accountable for their reckless financial machinations, and compel the formation of the Associates, an oversight group called for in Peter Cooper's founding documents. We're very hopeful that a long-term solution is possible.
In the interim, it is deeply frustrating to watch President Bharucha and a complicit board cynically adding programs and increasing (paying) student headcount in hope of fueling profits while administrative bloat accelerates. It's hard to decide which is worse, the destruction of Peter Cooper's vision for his Union, or another round of reckless and wasteful spending in the futile pursuit of a 'reinvented' Cooper Union. For example, the recent $58 million "bridge loan" for the school reportedly came with an initial sticker price of $8 million dollars (with interest payments still to come). $8,000,000 dollars! We can't afford to waste cash to stoke an unsustainable expansion.
It is well past time for clever 'financial engineering' and 'reinvention.' We need an administration and board that understands that fiscal restraint and renewed ties with the Cooper Union community are the right first steps towards working (not spending) our way out of this crisis.
Take the Call
The Cooper Union Phonathon begins this coming Monday, March 16th. Now that the CUAA has been defunded and pushed out, this year's event has been organized by President Bharucha's new Office of Alumni Affairs and Development. You may be tempted to avoid their pitch—but we encourage you to take the call.
This is your opportunity to speak with alumni, trustees, and other phonathon callers who are actively supporting Bharucha's administration and its plans.
This is your opportu nity to speak out about the reckless risks the trustees and administration are taking by putting Cooper Union's $20+ million annual tax subsidy in jeopardy, as explained in Senator Hoylman's article in City & State.
This is your opportunity to explain your support of the Committee to Save Cooper Union and its lawsuit.
This is your opportunity to ask why students are paying tuition—in violation of the Charter and Peter Cooper's vision of free education—while the Administration refuses to cut spending and live within its means.
And this is your opportunity to make it clear that Cooper Union needs leadership that understands and respects its history, cares about Peter Cooper's vision, and will work to unite—rather than alienate and divide—CU alumni and the wider Cooper community.
What Else Can We Do?
Speak out frequently and loudly. Write to the Attorney General and encourage him to act aggressively to save Cooper Union. Contact individual board members and voice your objections to spending their way out of the fiscal crisis. Let the board of trustees know that continuing with the current administration would be irresponsible, divisive, and detrimental to the recovery of the school.
It is Not As Quiet as It Seems
CSCU has, from the start, pursued a range of legal, political, and media strategies to save Cooper Union. Those efforts have not faltered. Our members and friends are working hard on all fronts to spur real action and change. As we have progress to report or need specific help to get a job done, we will continue to reach out to the community. We are truly grateful for the intense work that so many have and are putting in to this fight.
Your ongoing support for CSCU—in the form of money, expertise, and project work—is critical. If you're ready to help in a substantive way, please contact us. If you can afford to donate to our legal and operational fund, it is very much appreciated.
A New Home for Action
One effort that has been underway is a major redesign of the CSCU website. The new site will be easier to navigate and provide more comprehensive information on what has happened and what is happening next. Most importantly, it will create a new home for initiating and coordinating actions. We hope to launch within one or two months.
Thank you for your support as we continue to fight to restore Peter Cooper's legacy and vision for Cooper Union.
Sincerely yours,
The Committee to Save Cooper Union Founding Directors: Adrian Jovanovic, CU BSE '89 Mike Essl, Associate Professor of Art, CU ART '96, M.F.A. Toby Cumberbatch, Professor of Electrical Engineering, Ph.D.