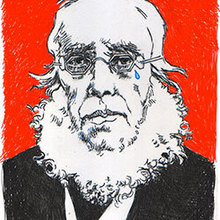 Committee to Save Cooper Union Legal Fund
CSCU is pursuing legal action as a last resort after Cooper Union's Board of Trustees proceeded to stop offering the free education required by the Charter.
Contribute with PayPal
(You do not need a PayPal account, follow the "Continue" link on the PayPal page to use your credit card.)
« CSCU updates
In Memoriam: Adrian Burton Jovanovic
Dear Alumni and Friends,
Adrian Burton Jovanovic was an engineer, entrepreneur, and a trusted friend. With his co-founding of the Committee to Save Cooper Union (CSCU), Adrian stood up and spoke for Peter Cooper's vision, fighting tirelessly for the survival of our founder's intent and Trust. His loss to the school is incalculable.
Of course Adrian's was not a lone voice. The majority of the school's alumni, students, and faculty knew that the end of a free Cooper was an existential threat. The pivotal and courageous student occupation, faculty protests, CUAA and other alumni efforts, media scrutiny, and concerns of our state representative, ignited a firestorm that could not be ignored.
But it was Adrian's creation of CSCU that channeled that broad community passion into a cogent legal argument and lawsuit that would succeed in validating the core intent of Cooper Union's Trust, driving out managers and trustees who would not (or believed we should not) continue the fight for a free Cooper, and instituting critical board reforms and oversight. Without Adrian's leadership, unstoppable optimism, and conviction, none of that would have been achieved.
Hundreds of people rallied around Adrian in his fight for Cooper's soul and future. They donated hundreds of thousands of dollars to fund the legal team.
We joined Adrian because we believed in his extraordinary ability to transform conviction into effective action. Together, we spent endless hours drafting missives, collaborating with Free Cooper and other groups, raising funds, and ultimately, negotiating the settlement agreement with the school and consent decree with the attorney general's office. Those documents, approved by the NY State Supreme Court, now provide a practical framework for restoring Cooper Union's free education mission and fundamentally improving its governance.
The bond we formed became even stronger after many of us were elected to the board as trustees and representatives. We spoke often about our need to press forward toward a free Cooper, while forging amicable and productive ties with trustees we had, only months before, fought in Court. We worried about how to best help the board and school heal and succeed.
Adrian was genuinely encouraged by the board's success in finding a strong new president who truly values Peter Cooper's vision, substantively reducing operating expenses, improving fundraising, revitalizing the Great Hall, and more. Despite some moments of strong contention, he felt that, together, we were making real progress toward shared goals.
But the truth is that no one on the board, including us, can match Adrian's determination, focus, and brilliance in overcoming obstacles to achieve our goal of a free, respected, and thriving Cooper Union. His loss is a dreadful setback. And while it's hard for us, for many, to move forward without him—we will. The best way to honor his memory is to keep his unwavering voice of conviction in our heads as we redouble our efforts to return to a free Cooper Union.
Mike Borkowsky
Toby Cumberbach
Mike Essl
Scott Lerman