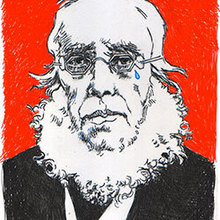 Committee to Save Cooper Union Legal Fund
CSCU is pursuing legal action as a last resort after Cooper Union's Board of Trustees proceeded to stop offering the free education required by the Charter.
Contribute with PayPal
(You do not need a PayPal account, follow the "Continue" link on the PayPal page to use your credit card.)
« CSCU updates
A Creative Way to Save Cooper Union
Dear Alumni and Friends,
Art alumni M'Liz Keefe, Bill Wolf and Carol Wolf wanted to help fund the lawsuit to save Cooper Union—but had limited cash on hand to put into the fund. So they got creative and contacted fellow art alumni from their Cooper days back in the 1980's and gathered donations of original artworks on paper, paintings, drawings, prints, photography etc., (keeping the size no larger than 8" x 10" to make shipping practical.)
Within days they collected donations of over over 100 pieces of original art for The Committee to Save Cooper Union!
Now you can acquire original artworks from highly accomplished Cooper Union artists, for a song, while you support the effort to save Cooper Union.
How does this work?
We've established new art perks on our Indiegogo page, so all you have to do is make a donation at the appropriate level and specify what you want. Your artwork will be delivered to you within four weeks after the conclusion of this Indiegogo campaign.
We will select a random piece or mini-collection for you as follows:
$200 = one original work of art
$400 = three original works of art
$600 = five original works of art
The artwork will look great on your walls or make fantastic one-of-a-kind gifts.
WBTW, if you are an artist, architect, engineer or physicist that has an artwork or a service you'd like to donate as a fundraising "perk," please let us know.
Our sincere thanks go out to these talented & generous artist donors:
Rick Angeloni, Art '84

Claudia Giordano Lasky, A'76
Timothy Horn, A'84
Candace Hsiao Young, A'85
Sandra Kelch, A'86
Kathleen Kucka, A'84
Sue Laurita, A'85
Lori Loebelsohn, A'82
Yvette Lucas, A'83
M'Liz Keefe, A'85
Kelly Occhiuzzo Zack, A'90
Lotte Petricone, A'85
Adam Shanosky, A'85
Suzy Sureck, A'84
Kevin Testa, A'84
Bill Wolf, A'84
Carol Wolf, A'84
Please donate to receive beautiful original art and help us Save Cooper Union!
Sincerely yours,
The Committee to Save Cooper Union
http://savecooperunion.org/